The whole aim of practical politics is to keep the populace…

alarmed (and hence clamorous to be led to safety) by menacing it with an endless series of hobgoblins, all of them imaginary.- H.L. Mencken
believing that the government is acting honorably and in its behalf while doing just the opposite.- OTTO

---
The Bush Emergency Preparedness Team Is…
…Cops Manning the Boats at the Bottom…
REUTERS photo
---
…and a Lawyer Handling the Pork at the Top.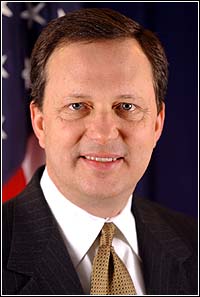 FEMA photo
---
Michael D. Brown was nominated by President George W. Bush as the first Under Secretary of Emergency Preparedness and Response in the newly created Department of Homeland Security in January 2003.
Prior to joining FEMA, Mr. Brown practiced law in Colorado and Oklahoma, where he served as a bar examiner on ethics and professional responsibility for the Oklahoma Supreme Court and as a hearing examiner for the Colorado Supreme Court. He had been appointed as a special prosecutor in police disciplinary matters. While attending law school he was appointed by the Chairman of the Senate Finance Committee of the Oklahoma Legislature as the Finance Committee Staff Director, where he oversaw state fiscal issues. His background in state and local government also includes serving as an assistant city manager with emergency services oversight and as a city councilman.
Mr. Brown was also an adjunct professor of law for the Oklahoma City University.
A native of Oklahoma, Mr. Brown holds a bachelor's degree in Public Administration/Political Science from Central State University, Oklahoma. He received his J.D. from Oklahoma City University's School of Law.
FEMA 500 C Street, SW Washington, D.C. 20472 Phone: (202) 566-1600