---
March 5, 2004
Bank of America Reportedly Ready to Settle Fund Scandal
By DAVID WELLS and DAVID WIGHTON, FT.com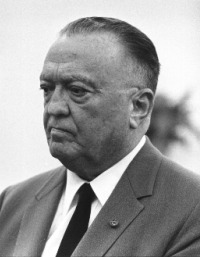 File photo
"Communism has turned the ideals of Western civilation upside down."
J.Edgar Hoover
---
Bank of America will this month become the biggest financial institution to be penalised for its role in the widening US mutual fund scandal when it settles allegations raised by Eliot Spitzer.

The New York attorney-general is close to agreeing to a penalty with BofA for allegedly helping a hedge fund engage in illegal trading in mutual fund shares, according to people familiar with the plans.

The settlement will follow months of investigation into BofA's dealings with Canary Capital, a hedge fund that has agreed to pay $40m in connection with mutual fund trading abuses.

BofA's decision to settle comes as it tries to persuade investors and regulators to approve its $48bn takeover of FleetBoston Financial. BofA is embroiled in several other scandals, including Parmalat and Adelphia.

FleetBoston has its own regulatory problems involving mutual fund trading abuses and improper trading at the New York Stock Exchange.

BofA, which intends to compensate investors hurt by the scandal, has co-operated fully with Mr Spitzer's investigation. Although the attorney-general refused to comment, the bank's behaviour helped avert charges, people familiar with the negotiations said.

In other cases, the mutual fund scandal has led to charges against employees of leading investment managers, brokers and banks including Alliance Capital Management, Amvescap, Prudential Securities and Canadian Imperial Bank of Commerce.

BofA has fired employees involved with Canary. However, Richard Demartini, head of BofA's asset management business, remains in place and will be paid as much as $4.5m this year, according to recent regulatory filings. Mr Spitzer has alleged that Mr Demartini was aware of the arrangement with Canary.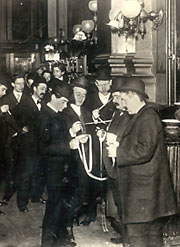 File photo
Stock brokers: Working to earn the public trust.
---
Mr Spitzer singled out BofA for its role in allegedly allowing Canary - run by Edward Stern, son of billionaire Leonard Stern - to make trades he has likened to "betting today on yesterday's horse races" and "playing a casino with loaded dice". The practices are known as late trading and market timing.

According to e-mails released by Mr Spitzer, a BofA broker who now faces criminal charges wrote a memo to his bosses urging them to allow the trades. "While the requests they are making may seem a bit unorthodox, they have made it clear they are not only willing to play by the guidelines we agree on, but also pay us for the value we can add," he wrote.

BofA's critics blame its problems partly on its aggressive pursuit of business outside its traditional retail and commercial banking expertise. In particular, it has focused on wooing companies run by wealthy families and providing them with a range of different products from across the bank.

The bank said: "We have a rigorous and effective risk management process in place at the bank. The bank manages its businesses separately. When individuals fail to adhere to the rules, we act quickly and decisively."

Regulators have used settlements of mutual fund trading allegations to extract penalties and pledges from fund companies to reduce their fees. The largest settlement so far has come from Alliance Capital Management, which agreed to pay a penalty of $250m and cut fees by 20 per cent. Massachusetts Financial Services, a unit of Sun Life Financial, agreed to pay $225m and reduce fees by $125m over five years.




Copyright The Financial Times Limited 2004