---

Monday, November 18, 2019
Features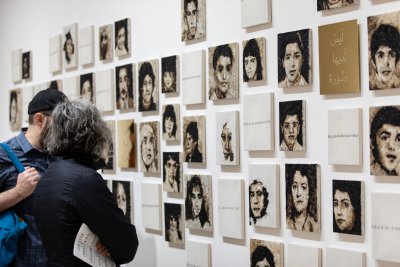 Review: These Artists Refuse
to Forget the Wars in Iraq
---
A powerful new show at MoMA PS1, featuring artists from the U.S. and the Persian Gulf, revisits two conflicts most Americans have tuned out.
Art & Design Nov. 15
---

Monday, November 18, 2019
---
The Fog of Imperialist Propaganda
Review of the NYT 'Review'
The NYT here exhibits the sure knowledge that its client state will protect it from prosecution for propagating the Iraqi WMD lie that facilitated the commission of a war crime.
It also exhibits the stupid arrogance that assumes that no one will "get it."
To a knowledgeable observer, the historical equivalent of this "review" is the German NSDAP* newspaper Völkischer Beobachter reviewing an exhibition of photographs of Holocaust victims.
Footnote
* National Socialist German Workers Party, the political party that governed Germany from January 30, 1933 until May 8, 1945, when the Red Army occupied Berlin and established a military government. The building in which the German Wehrmacht surrendered on that date is in the Karlshorst section of Berlin and is now a museum.
---