| | |
| --- | --- |
| | "When it comes time to hang the capitalists they will fight amongst themselves for the contract to supply the rope." V.I. Lenin |
Nicolas Sarkozy Guest of General Secretary of the Communist Party of China Hu Jintao


---
Airbus Signs $26.7 Billion in Orders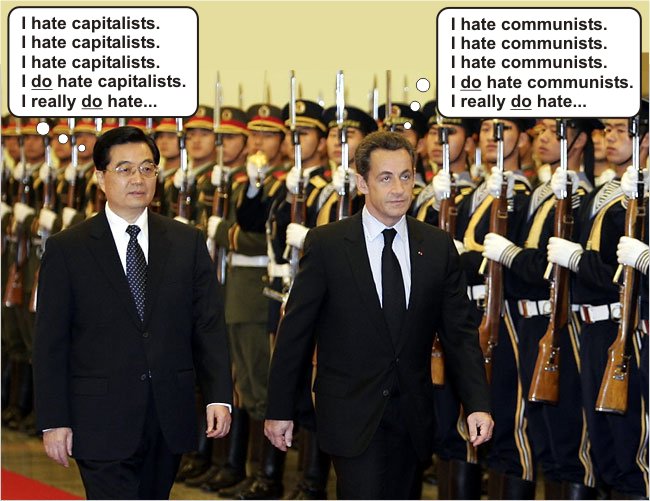 Ironical Chronicle & Francois Mori/Associated Press
BEIJING, Nov. 26 — The aircraft maker Airbus and the French nuclear company Areva signed orders worth a combined $26.7 billion here today, in deals that underline the growing value of China as a market for European technology despite mounting tension between Europe and China over trade.
The deals, signed while President Nicolas Sarkozy of France was on the second day of a three-day visit to China, come as the European Union steps up pressure on Beijing to curb China's soaring trade surplus with Europe.
European Union monetary officials, including Jean-Claude Trichet, president of the European Central Bank, are expected to press China to allow faster appreciation of its currency, the yuan, when they arrive in Beijing Tuesday for two days of talks with their Chinese counterparts, European officials said.
European trade officials accuse Beijing of keeping the yuan undervalued to boost exports. China's trade surplus widened 50 percent to $13.9 billion in October compared with the same month last year, according to official Chinese statistics.
The European Union estimates China's trade surplus is on track to reach $252 billion this year, a 30-percent increase on the figure for 2006.
In a visit that has been dominated by trade, Mr. Sarkozy today called for fairness in the value of the world's major currencies.
"A great country must have a strong currency," he told French and Chinese business leaders in a speech, The Associated Press reported.
"China has an important role to play, in consultation with the other players, in not letting the imbalances accumulate to a point where we won't know how to get rid of them."
Trade friction is also expected to top the agenda at a summit meeting between the European Union and China in the Chinese capital Wednesday, with European leaders signaling they will urge Beijing to do more to open Chinese markets to foreign goods and services.
The European Union trade commissioner, Peter Mandelson, has warned Beijing that it needs to make progress on lifting investment and trade barriers and protecting intellectual property or face tough measures from Brussels. In remarks that drew a rebuke from Vice Premier Wu Yi, Mr. Mandelson also attacked China's product safety record today in a speech at an international food safety forum in Beijing.
The deals signed by Airbus and Areva are among the largest for French companies.
Airbus, the world's biggest commercial aircraft maker, said it had signed orders to deliver 160 passenger aircraft worth about $14.8 billion to Chinese airlines.
Airbus said it would supply 110 of its A320 passenger jets and 50 of its larger A330 models in a deal that aviation experts say is a timely boost after costly delays in Airbus's A380 superjumbo and a falling United States dollar have hurt the performance of its parent company, EADS.
Airbus, based in the French city of Toulouse, has so far won orders this year to deliver a record 1,340 aircraft, easily exceeding the previous high of 1,111 in 2005, according to industry analysts citing recent briefings with senior Airbus executives.
Airbus is now closing on its goal of matching Boeing, a rival, in sales in China, the world's second-biggest market for commercial passenger aircraft behind the United States. Boeing also secured record orders this year. "This is a remarkable golden era for aircraft sales," said Martin Craigs, president of the aviation industry lobby group, Aerospace Forum Asia, in Hong Kong. "With this deal, Airbus has won orders for almost three times as many aircraft this year as they are going to build."
Earlier this year Airbus had also signed an agreement to assemble aircraft from 2011 at a new facility in the Chinese port city of Tianjin.
In what it said was the French nuclear industry's biggest commercial contract, Areva signed deals worth $11.9 billion today to supply two reactors, technology and uranium to China, as the world's fastest growing major economy strives to reduce its dependence on heavily polluting coal.
The company said it would build two of its third-generation EPR reactors at Taishan in the southern Chinese province of Guangdong under a contract with China Guangdong Nuclear Power Corporation. The Chinese company had agreed to buy 35 per cent of the production of Areva's uranium mining subsidiary, UraMin, which plans to source the nuclear fuel from its three mines in Africa, Areva executives said.
France and China could also become long-term partners in nuclear fuel processing after Areva signed an agreement today with the China National Nuclear Corporation, to begin a feasibility study into building a spent fuel reprocessing plant in China.
"For us, it looks very promising for the future," Areva chief executive Anne Lauvergeon said at a news conference in Beijing.
"Areva in this fashion, with its partners, continues its presence in one of the most dynamic markets in the world."
China has become an important market for the world's top nuclear reactor builders. Areva, Westinghouse, a unit of Japan's Toshiba Corp., and Russia's AtomStroyExport are competing for orders at a time when China is planning to spend $60 billion on new reactors by 2020, according to reports in the official media.
Westinghouse won a $5.3 billion order to build four reactors in July.