---
AUTOS
Toyota to introduce a lower-priced Prius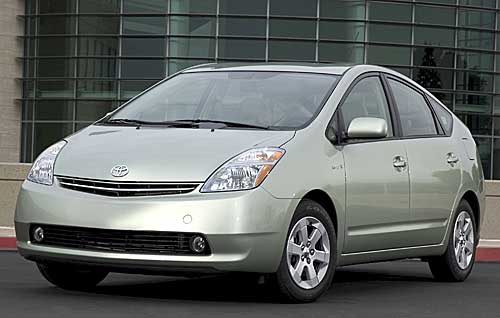 Toyota

July 31, 2007

Coming soon to a Toyota dealer near you: a slightly cheaper Prius.

Toyota Motor Corp. said Monday that it would introduce a new "standard" version of its popular gas-electric hybrid for the 2008 model year with a base price of $20,950, not including destination charges.

That's 5.5%, $1,225, less than the lowest-cost 2007 model, but some equipment that came with that model, such as cruise control and heated rearview mirrors, will be optional on the new standard.

"We're just trying to make it available for everybody," said Bill Kwong, a spokesman for Toyota Motor Sales USA in Torrance.

In addition to adding a third model to the Prius lineup, Toyota said it would raise the base sticker prices of the 2008 mid-size and Touring models by $150, to $22,325 and $23,220, respectively. The new models will be in dealerships in August.

"I don't think it's a desperation play to get more sales," said Brian Chee, an analyst with MyRide.com, a car buying and research website.

"They're doing what every automaker does in every segment: They're competing on price and value as well as the car. It's great for consumers because it provides a lower price for a car that people obviously want to buy."

Prius sales in June jumped 83% from a year earlier and were up 96% during the first half or the year. It remains by far the most popular gasoline-electric hybrid in the U.S. -- 65% of all hybrids sold so far this year were Priuses. Although gas savings are attracting buyers, having more cars on dealer lots also has helped.

Toyota is boosting production of U.S.-bound Priuses by almost 50% to an annual rate of 150,000. That's giving buyers more bargaining room, and this spring Toyota began offering discounts of $600 to $2,000 a vehicle on common options packages.

The car also is facing increasing competition as other automakers roll out hybrid vehicles and competing fuel-saving powertrain options, such as clean diesels.

For example, Honda Motor Co.'s Civic hybrid, which had a 2007 base sticker of $22,175, is selling well, if not spectacularly, as is the Escape hybrid from Ford Motor Co.

And a raft of other hybrids is expected to hit showrooms over the next few years, including one from Honda due out in 2009 that, like the Prius, will be offered only in a gas-electric version.

In addition, the federal tax credit available to Prius buyers has shrunk from $3,150 a year ago to $787.50. The credit will disappear altogether Oct. 1.

Prius buyers also face a novel form of sticker shock: The Prius, like many other hybrids, saw a big drop in its fuel economy ratings as a result of new federal gas mileage tests; the new ratings will be listed on 2008 models.

Under the new test, which was designed to more accurately reflect real-world driving conditions, the Prius' average for combined city-highway driving fell from 55 miles per gallon in 2007 to 46 mpg for 2008 models.

Prius buyers in California -- the car's biggest market with 27% of sales -- lost another incentive this year when the state gave out the last of the special carpool lane stickers designed to encourage sales of fuel-efficient and environmentally friendly vehicles. (Natural-gas-powered vehicles still qualify.)

The new "standard" Prius is not considered a redesign. The current design was introduced in the 2004 model year, and a redesigned version isn't expected in showrooms until the 2009 model year at the earliest.
---
martin.zimmerman @latimes.com