| | |
| --- | --- |
| | "[T]he right of freely examining public characters and measures, and of free communication among the people thereon ... has ever been justly deemed the only effectual guardian of every other right." — James Madison |
---
Hoping to Hear It From The Horse's Mouth
Today, I noticed that the Managing Editor of the NY Times, Jill Abramson, is at bat this week in its series of having its department heads answer questions from readers.
This is undoubtedly part of the paper's owners strategy to recover its huge loss of credibility as result of their two year campaign of hyping the Iraq WMD lie.
However, it did present me with the opportunity to ask a question that has bugged me for a long time. Here is a copy of the email I sent to Jill:
---
----- Original Message -----

From: Otto Hinckelmann

To: asktheeditors@nytimes.com

Sent: Wednesday, November 15, 2006 8:40 AM

Subject: Question for Jill Abramson




Dear Ms Abramson,

At the end of World War 2, German government leaders were tried at Nuremberg for some of their official activities between 1933 and 1945. These trials were deemed to have established precedents for defining as crimes certain official acts. Some of the acts committed by Bush government officials appear to fall under the Nuremberg precedents. Why hasn't the Times done a story on elucidating the applicability or non-applicability of these precedents to current US government officials?

Otto Hinckelmann
---
If I get an answer I'll share it with the readers of the Ironical Chronicle.
OTTO
P.S. Does anyone else think this is a legitimate question or is it just cheeky maliciousness to ask it?
P.P.S. I really think they could have gotten a nicer picture of Jill. The one they used looks more like something you'd fine on a California driver's license.
---

---
Talk to the Newsroom:
Jill Abramson, Managing Editor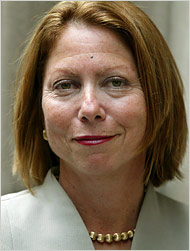 Ruth Fremson/The New York Times
---
Jill Abramson, managing editor of The Times, is answering reader questions this week. Questions may be sent to asktheeditors@nytimes.com.

Ms. Abramson was appointed managing editor in 2003 after serving as Washington bureau chief. She joined the newspaper in 1997. Previously, she was an editor and investigative reporter at The Wall Street Journal. She is a graduate of Harvard College and co-author of two books: "Strange Justice: The Selling of Clarence Thomas" and "Where They Are Now."

Several other editors have answered questions in this column in previous weeks, including Executive Editor Bill Keller, Science Editor Laura Chang, Sports Editor Tom Jolly and Obituaries Editor Bill McDonald. Their responses and those of other Times editors are on the Talk to the Newsroom page.